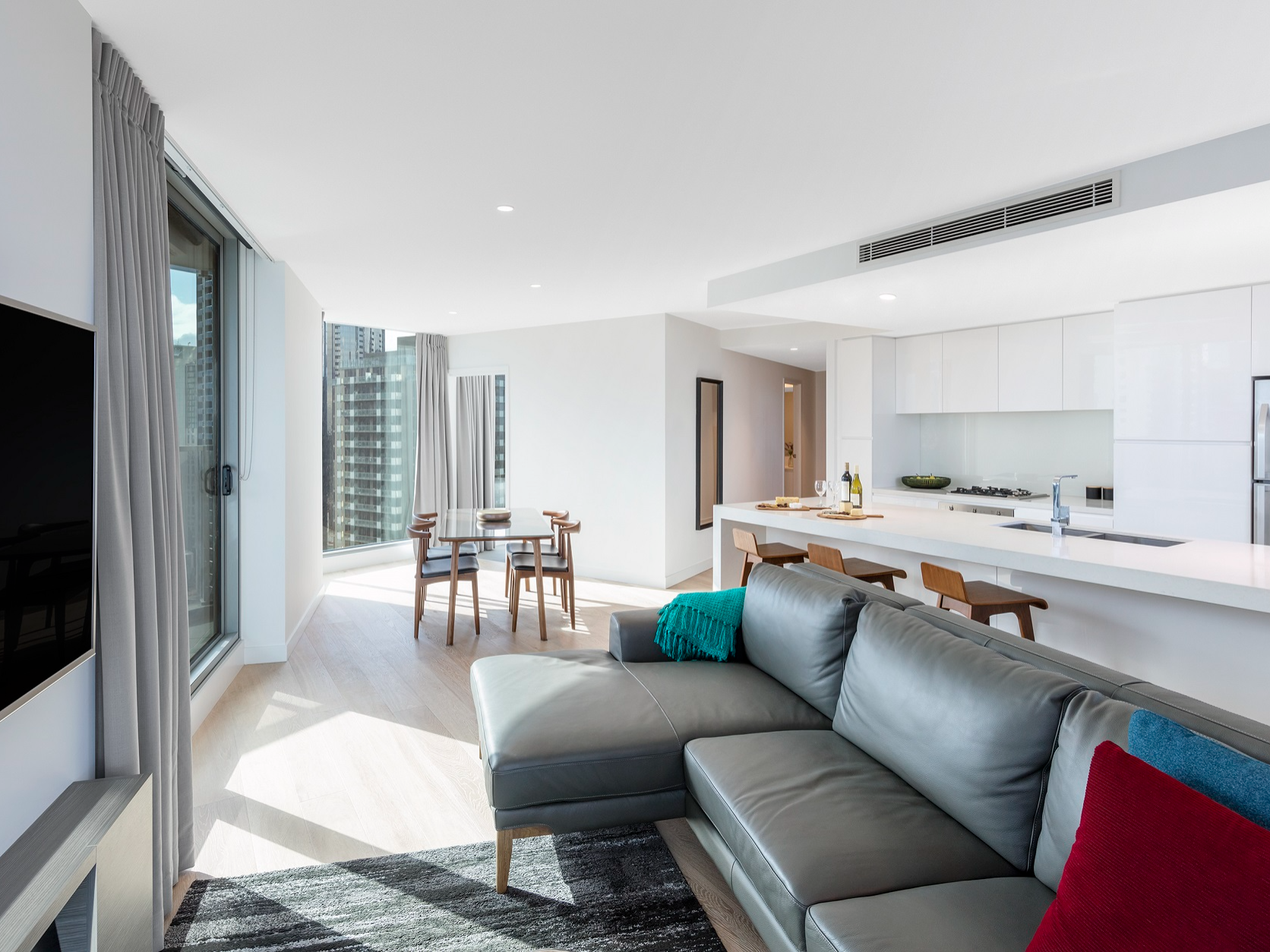 Chris Baker | Managing Director | Principal Consultant
"Customer service makes or breaks an experience and the Marco team are the best."
At Imagine Hotels & Resorts, the team are proud to live within an unrivaled culture of entertainment, culinary capabilities and endless opportunity. Whether it's business travel or leisure alike, CBD or Southbank, we're fortunate to cross paths will all those eager to explore.
With modern, apartment style accommodation and access to onsite health facilities, our Southbank property - Imagine Marco, has forever provided a convenient base for varying industries. From construction to pet supplies, our clients are diverse but align on one simple requirement - a comfortable place to rest and recharge.
Regular corporate traveller - Chris Baker, has been staying with Imagine Marco since the beginning and seen firsthand the changes to the Southbank landscape. Discussing the importance of routine and convenience, Chris Baker tells us why Imagine Marco forever fits his personal travel essentials of car parking, home cooking and customer service.
How often do you travel for work?
Typically, three weeks out of four and I'm away for 3 to 4 days in those weeks.
What do you find the challenges are in travelling for work?
Much of the travel itself is now a routine so I'm quite organised. However eating healthy and exercise are the biggest challenges, especially with early starts and late finishes. The other challenges are mainly around being away from home and family so often.
What is most important for you when staying away from home?
Routine, car parking and convenience! The travel and work are burdens enough, so I like to stay at the same places when I can. It's nice to know the staff and receive a friendly greeting. I have to move around a lot each day, so secure car parking is also important to me. In room cooking and laundry facilities are invaluable so that I can prepare healthier meals than take-away options. It's also just a short walk to the Southbank restaurant and bar strip and if you're going anywhere else, you can get on and off the freeway in minutes.
If you could describe Melbourne in three words, what would you say?
Ha Ha, Well, as a horse racing enthusiast and thoroughbred owner, I'm tempted to say Caulfield, Flemington and Moonee Valley, but other than that I'd say Dining, Shopping and Cosmopolitan.
If you could describe Imagine Marco in three words, what would you say?
Staff (fantastic), Location (Perfect), Value
How have you seen Southbank change in the last year?
Not a normal year to compare, with Covid closing so many venues, but there are many new constructions, including the new shopping centre opposite the Imagine Marco.
How has the Woolworths complex next door to Imagine Marco changed your stay?
Brilliant. Huge range of good food, snacks and wine pretty much right on my doorstep. It's my first point of call after checking in!
Is being able to cook for yourself a non-negotiable?
Not a non-negotiable, but certainly a big drawcard!
Can you share a positive experience you had previously with Imagine Marco?
I've stayed there a lot, so it's hard to pick a single stay, but it's really about the staff. Friendly, welcoming and accommodating. It feels personal. All the other positives are great, but customer service makes or breaks an experience and the Marco team are the best.
Where do you find Southbank's best coffee?
Ahh, well there are probably hundreds and I haven't tried them all, but the nearby Bond store does a great coffee and a great breakie too.
A big thank you to Chris Baker for both his feedback, and for sharing his experience with Imagine Hotels & Resorts. After a devastating year for corporate travel, and where former luxuries quickly became obsolete, the team are thrilled to welcome Chris Baker to stay once again.
With fantastic changes to Southbank's landscape, we're looking forward to detailing further advancements in the area.
Kim Toovey
kimt@imaginehotelsresorts.com | +61 428 128 956 | Business Development & Sales Manager at Imagine Hotels & Resorts