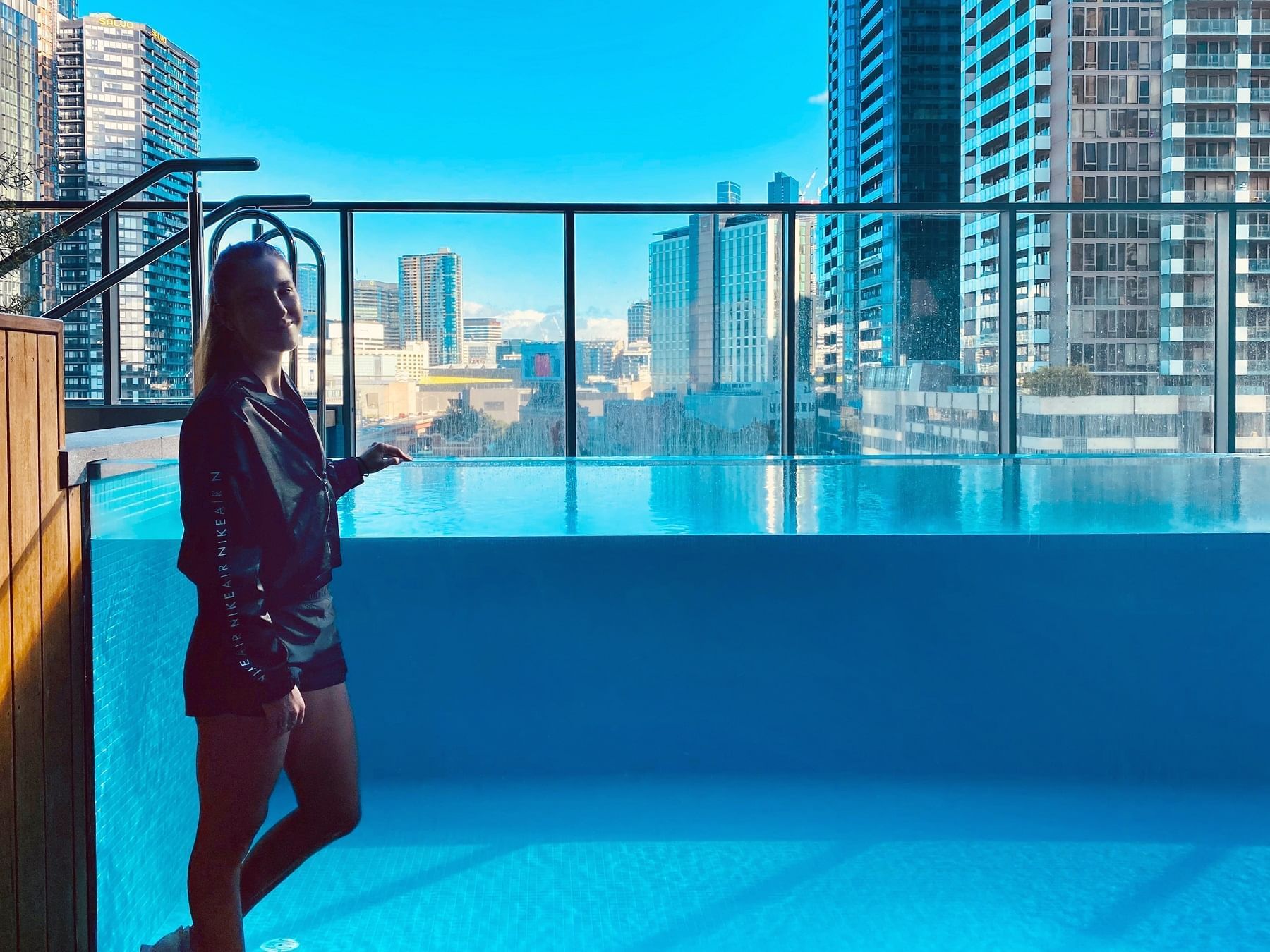 Imagine Hotels & Resorts took 5 minutes with Swiss tennis player Belinda Bencic (World #12) during her stay in Melbourne for the Summer Series and Australian Open. On a pleasant summer morning by the pool; we chatted tennis, coronavirus, travelling essentials and recovery.
You made your grand slam debut here in Australia at the 2014 Australian Open. Since then, you have had an outstanding career of breakthrough wins, overcoming injuries, and epic come backs. In 2019 you recorded your best season yet. Congratulations! With the global pandemic and suspension of professional tennis – how did you navigate the uncertainty of 2020 on the back of your best season to date?
It was definitely different; it was strange as it was something that all of us had never experienced before. No one would have ever thought this would happen, but for all of us, it was the same. The worst was being unable to do our jobs. I just have to tell myself it was not in my power to change what was happening as it wasn't something that I could control. I try not to think about it too much and just do the best that I can.
I hope that this year will be better and now that the tournament organisers know how to make it even [for players within the pandemic] so we will all be in it together, and at least now we can play!
I am just grateful that I can continue to do my job and bring joy back to the people watching at home.

The conditions in Melbourne can be challenging and very gruelling, especially coming out of such an unpredictable and tumultuous year. As the 2021 AusOpen is the first major tournament of the year - how did you prepare yourself for it?
I prepared well and felt great – I didn't play a lot of tournaments last year, but I did still enjoy it as I was home a lot. It was a new experience for me to be in the one place and to be at home for so long, it was really cool.
That being said; I still missed tournaments and did my best to prepare well. We were in Dubai just before coming here doing a great pre-season and I felt really good. The two weeks in hard lockdown was not ideal but I still feel well prepared after this.

Which of the current players on the tour do you most enjoy watching?
I love to watch the top guys play. Even though Roger Federer is not here he is one of my favourites to watch. I also enjoy watching Rafael Nadal and the new ones, Alexander Zverev, Daniil Medvedev, Denis Shapovalov, I like watching men's tennis in general. I am in awe of how well they play.
In women's tennis I love to watch Hsieh Su-wei, she is from Taipei and she plays the craziest game ever, so I enjoy watching her.
Generally, I enjoy watching all tennis. I'm on-site all day, and as soon as I am home, I turn tennis on the TV; it's my addiction and I love it.

What was it like growing up with a father who was a professional hockey player for the Swiss National League?
Obviously it was very natural that he came with me to the tournaments because I was too small to travel on my own or even just have me and my coach. I have been travelling with him all my life, so it feels very natural to me. I feel like he understands me and what my game needs. Also, as we are together a lot we settle in well to this routine.
And my mum comes with me as well when she can, so that's really nice to have my family with me.

Why tennis; instead of following in your father's footsteps and playing hockey?... What made you pick up the tennis racquet and pursue this as a career?
I think for a girl, tennis is much nicer. For me it is a beautiful sport. As I started really young, it was not like I said, "I want to play", my dad introduced me to it and I have to say I really liked it.
It's like tennis was made for me. I love how competitive it is. While I really love playing competitively in tournaments (and I don't like to lose so I am always pushing myself) I also love to just play it as well.

Travelling can be exhausting, and in professional sports you need to stay on your a-game. How do you ensure you travel in a way that keeps you fresh, energised, focused and game ready?
I used to struggle with packing light, but now I am much better at it because I hate to carry all the bags with me in the airport. Well, (Belinda says laughing) I am trying to be much better at it!

Is there something specific you look for in accommodation to assist you during your training and comps?
After all of this [coronavirus and quarantine], now I look for accommodation like this at Imagine Marco, it's perfect. I love having a balcony with fresh air and being able to open the windows.
You know when it is just one week, a hotel room is ok, but when you are staying for longer (especially after spending so much time at home recently) I definitely feel like I need to have a kitchen and for my accommodation to feel more like home.
I love that staying here kind of feels like staying at home. I can cook, I have space within my apartment to sit on the couch then go to bed, and I have my own private balcony. It so nice to not just have a bed and that's it.

When you travel for tennis do you find you get to schedule in some down time and see a bit of the country you are playing in? If so, what do you try and ensure you see when visiting a country or city you've never been to?
Mostly I travel for training and tournaments and when I have time off, I tend to want to go home and just rest there. That being said; when I am on tournaments I do try to stay after for one or two days to get to know the city and just to do something else [other than tennis].
I think after my career I want to visit all of the cities I have been to and see it from a different view.

What are your non-negotiables / must-haves when traveling?
I need to have books with me. I don't like reading online, I like to read real books – so that can get really heavy but I find it's important for me.

What are you reading at the moment?
(Belinda starts giggling nervously) I'm actually reading a book about not giving a f*ck. And the other one is called Everything is F*cked. They are great.

The season can be very long and intense, what do you do to look after your body (and mind) for recovery?
I think generally speaking - I like to go out. Even if it is just to go out for a walk or go out for breakfast. I really love breakfast so that is my favourite meal to go out for. I also do my best to relax indoors with a good book or watch a movie or relax by the pool. I make sure that I have relaxation time as well as training and competing.
Belinda thank you for taking the time to chat to me this morning, all the best on the court today and for the upcoming Australian Open.
Imagine Marco is happy to welcome tennis players and supporters alike during their stay in Melbourne. Located in the vibrant cultural, entertainment and sports hub of Southbank in Melbourne with a selection of 1 & 2 Bedroom Apartments (all complete with kitchens and private balconies), make Marco your accommodation of choice in Melbourne.
Book Direct & Save >> imaginehotelsresorts.com/melbourne/marco/ or call (03) 8695 2800
Words: Emily Steckelbruck, Marketing Manager for Imagine Hotels & Resorts