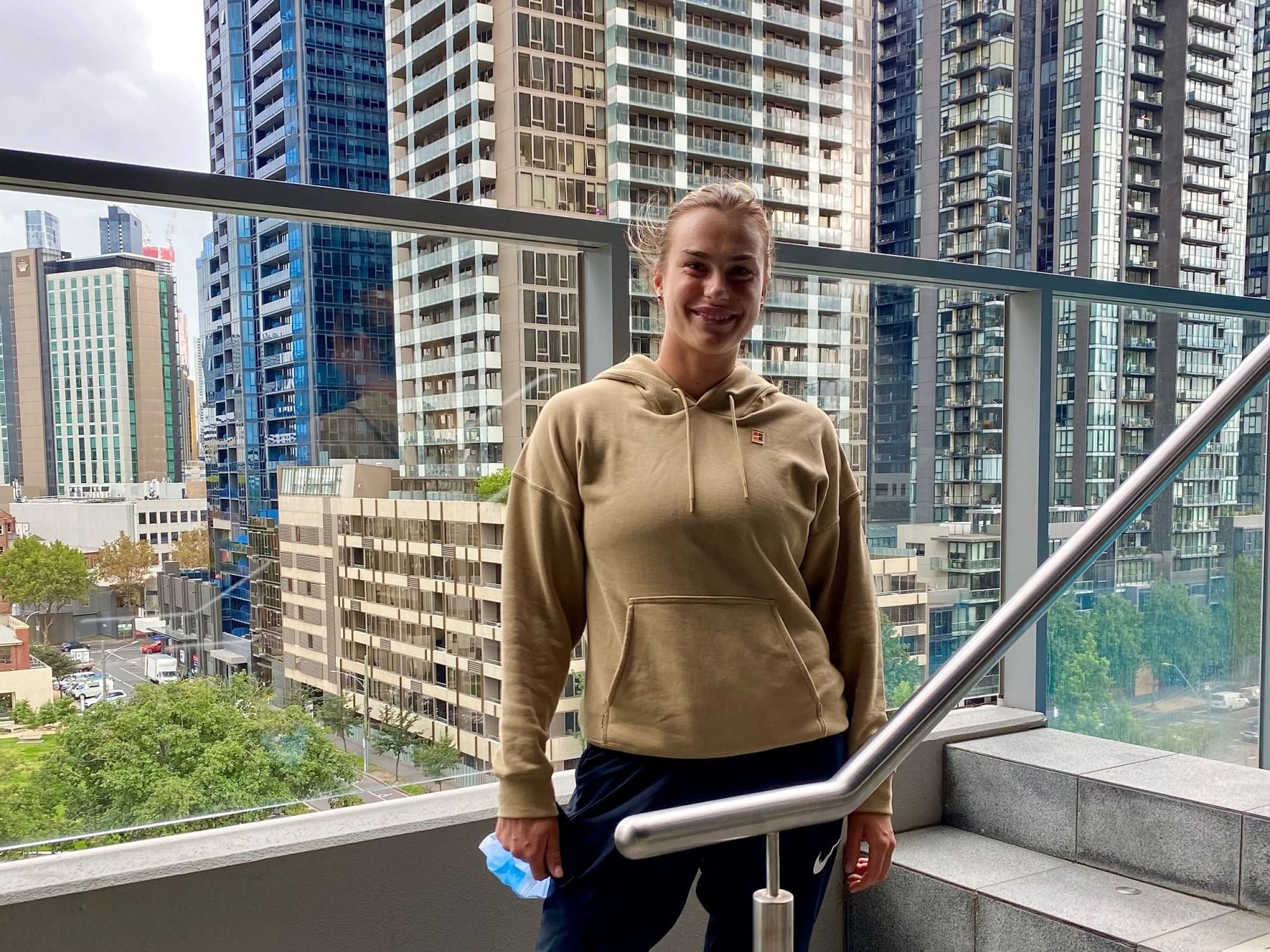 With an easy smile, cool demeanour and effortless laugh; Aryna Sabalenka took 5 minutes to chat to us about the past year and how it has impacted the world of tennis and travel.
The team here at Imagine Marco are honoured to welcome you back to stay with us again for the 2021 Australian Open. Since we saw you last year, the world (and especially the world of professional tennis) plunged into an unprecedented crisis.
With professional tennis suspended for 5 months from March 2020; in a few words or sentences - how would you describe what the last year was like for you?
I would describe it as a crazy year. A lot of up and downs.

What would you say was the hardest part of 2020 for you?
I think not knowing what is going to happen the next day, let alone looking forward into future months.

And what do you think was the best thing to come out of 2020 for you?
I think people are becoming adaptable after the year we had. I feel like now we are ready for anything.
It's also has been easier to travel. Yes, there are lots more tests required from us, but in the airports, there are so few people – it makes it easier. And any time you travel, you're so grateful and happy to be there. I think that has been a big positive – really appreciating travel and being happy to be able to go anywhere.
Also, I spent a lot of time with my family having a lot of funny moments with them. It was really great. Being with my family was the best part of 2020 for me.

With travel restrictions, health concerns, suspended tournaments to then having overlapping and experimental events littered throughout 2020 – how did you move past that and spend your most recent off-season?
I like to do my off-season and pre-season at home because I like to spend as much time as possible with my family. I got to stay for 5 months at home, which [while being at home] wasn't too different for me, the way that I trained changed. For example, I only had one week off. I usually have two weeks off and then two weeks on with fitness, then I slowly start to add in some tennis. But this recent pre-season I changed it, and had one week off then straight away into tennis and fitness all together. I would say that I had 5 months of pre-season, so I'm good (she says laughing).

That's brilliant – my next question was asking how are you feeling about your game and mental clarity going into the 2021 Australian Open; but I am assuming after your 5 months of pre-season you're feeling pretty great?
I'm in good shape yeah (she says with a smile).

When travelling for tennis what would you say are your must-haves, particularly regarding accommodation requirements?
I like when there is more space in the room or apartment. I also really like when I have a kitchen so I can cook for myself. So, basically what it is like here. I also like to have a gym at the hotel and have places close by where I can go out – even if it is just for a walk before bed, it's really nice to have nice places nearby to explore. Really, everything that I am looking for you guys have here at Imagine Marco. And you have such a cool swimming pool here.

The see-through acrylic is pretty great for taking selfies that's for sure! Speaking of selfies… Your creative ways of training while in quarantine here in Melbourne went viral. Would you say your social media has become more important to you over the last 12 months as a way to stay in touch with your fans?
I would say it has brought me closer to my fans because I want to show them that I am not only a tennis player and they are enjoying seeing that. I want people to know me a little better and show my personality… I hope they are enjoying my Instagram (she says with a giggle), I am just trying to bring some fun.
Well, I think your TikTok videos are great. Love it – especially when you dance.
(Aryna starts laughing) Well, yeah, sometimes I might overdo it, maybe. I love to do it to switch off and relax – this is why I started doing TikTok's. (She giggles some more) It's really fun.
Definitely, don't stop doing them. So entertaining.
Aryna thank you so much for your time with me today. Despite everything, you have had an absolutely stellar year of tennis and judging by how you're playing so far in 2021, this year will be no different. Thank you for choosing to stay with us again at Imagine Marco, you are always welcome here and we love that you enjoy your stays with us. All the best in the Australian Open! We are cheering for you.
Words: Emily Steckelbruck, Marketing Manager for Imagine Hotels & Resorts