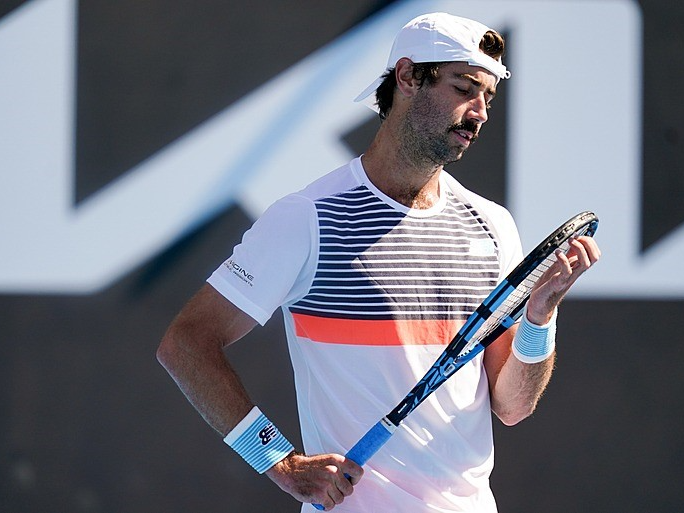 Relaxed and laid back, Jordan Thompson has the personable demeanour of a long-time friend. On a warm and windy summers day in Melbourne, marketing manager Emily took 5 minutes to chat with the Australian tennis (World #52) player about the year that was, goals moving forward and non-negotiables when travelling.
In the whirlwind that was 2020, you came out on top with a career high singles ranking of 51 and advanced to the fourth round in a Grand Slam at the US Open. Huge achievement, considering the uncertainty of the game over the year, you must be so proud of that result.
Looking back on 2020, in a few words or sentences - how would you describe what this last year was like for you?
Bizarre. It was refreshing but when we started back up it was pretty draining.
Having 6 months off was definitely refreshing, as I stayed at home for an extended period for the first time since I was about 16.
Then getting back into it, making third round at French Open and fourth round in the US Open was pretty cool. After that I went through Europe and I didn't have too many good results but finished off the year in the third round in Paris and got to play Rafael Nadal which was pretty special.
It's funny, before I got to Paris I said to my coach, "I would love to be in Rafa's section, last tournament of the year, it would be pretty good to play him". I saw he was in my draw and that I had to make the third round – played two good matches and got my wish, it was a good match.
When we came back, I had to quarantine for two weeks in a hotel, it was challenging. I remember being in the room and just looking outside and wanting nothing more than to be out there. The year of 2020 definitely became about who was the 'mentally fittest' in the game. Always being in a bubble not being able to go about normal life, not going to restaurants, I didn't realise how much I took for granted – especially not being able to go for a walk. I promised myself that being able to go outside would be something I would never take for granted again.

True talk now… What TV Series did you binge watch during 2020?
I'm a little bit weird, I always fall asleep watching Seinfeld. For the last 8 years I just flick it on and go to sleep. Sometimes [since Kramer is my favourite character] if he is having a good episode I can't get to sleep because I'm laughing… Same episodes, 8 years later, and I'm still laughing.

I didn't need to look far to notice you are a massive West Tigers (Sydney Rugby League) fan. Who would you say your favourite player of all time is?
I always said that I'd never ask anyone for a photograph or an autograph… But, Brett Hodgson, he is my favourite player of all time. Played full back. When they won the premiership a long time ago, I got a framed picture of it and that's been in my bedroom of my parents' house for 20 years. For sure if I saw him, I would ask for a photograph (Jordan says laughing) and probably bring my framed picture and ask him to sign it.

I've also read that if you didn't pursue this career, you would have pursued professional rugby league. What made you choose tennis?
I always played tennis when I was younger, my dad was a tennis coach. I just always wanted to hit the ball and run around. I grew up watching it on the TV all the time, watching Lleyton Hewitt and I just wanted to be like him. Every time he [Hewitt] was on the TV I would go outside and hit a ball against the wall and pretend I was playing someone on tour.

Steadily climbing rank since 2013 – what are your goals for 2021 and beyond for your tennis career?
Probably staying inside top 50, well, I've got to get back inside it first – I'm lurking around 51/52 (he says with a relaxed smile). Yeah, just want to maintain consistency and just keep pushing forward, hopefully making a bigger run at the bigger tournaments.

When travelling, is there anything specific you do to assist you?
Yeah. I actually travel with my pillow. A couple of times I've nearly forgotten it… I'm a little OCD I always pack and have it ready the night before and to make sure I don't forget my pillow I leave my suitcase wedged open with a little note "Pillow" just so I can't leave without it.
It's the most important to me. And there is nothing special about it at all - it's probably worse for me, flat as a pancake and so small. But I've had it since I can remember so it goes with me.


Is that a superstition thing? Or just a routine? And while we're here - let's chat pre-game superstition and routines… Do you have any, other than your pillow, if so - what are they?
Nah, I've just always had it and thought "I may as well travel with my pillow".
In regards to pre-game, I am a big routine-ist and have a lot of superstitions. If I do one thing in at a tournament, I'll just keep doing it every night. Can get a bit annoying, even to me, but if I've started doing it then I keep doing it until the tournament is over.

Lastly, which current players on the tennis circuit do you most enjoy watching?
I would say the Aussie boys. I like watching Nick [Kyrgios], I like watching [Alex] de Minaur. All the boys that I practice with are probably the ones I like to watch the most.
And from top ten, I would say Rafa [Rafael Nadal].

Incredible that from the top ten Rafael is your favourite to watch and just last year you got to play him. What a great experience.
Yeah, thank you. It was pretty cool.
Well, Jordan, thank you so much for your time today. Congratulations on starting the year playing so well, the entire team at Imagine Hotels & Resorts are backing you! We hope you enjoy your stay with us and we look forward to seeing you progress through the Melbourne Summer Series and upcoming Australian Open.
Looking for the ideal apartment accommodation in Melbourne? Book Direct at Imagine Marco & Save >> imaginehotelsresorts.com/melbourne/marco/ or call (03) 8695 2800
WORDS: Emily Steckelbruck, Marketing Manager for Imagine Hotels & Resorts