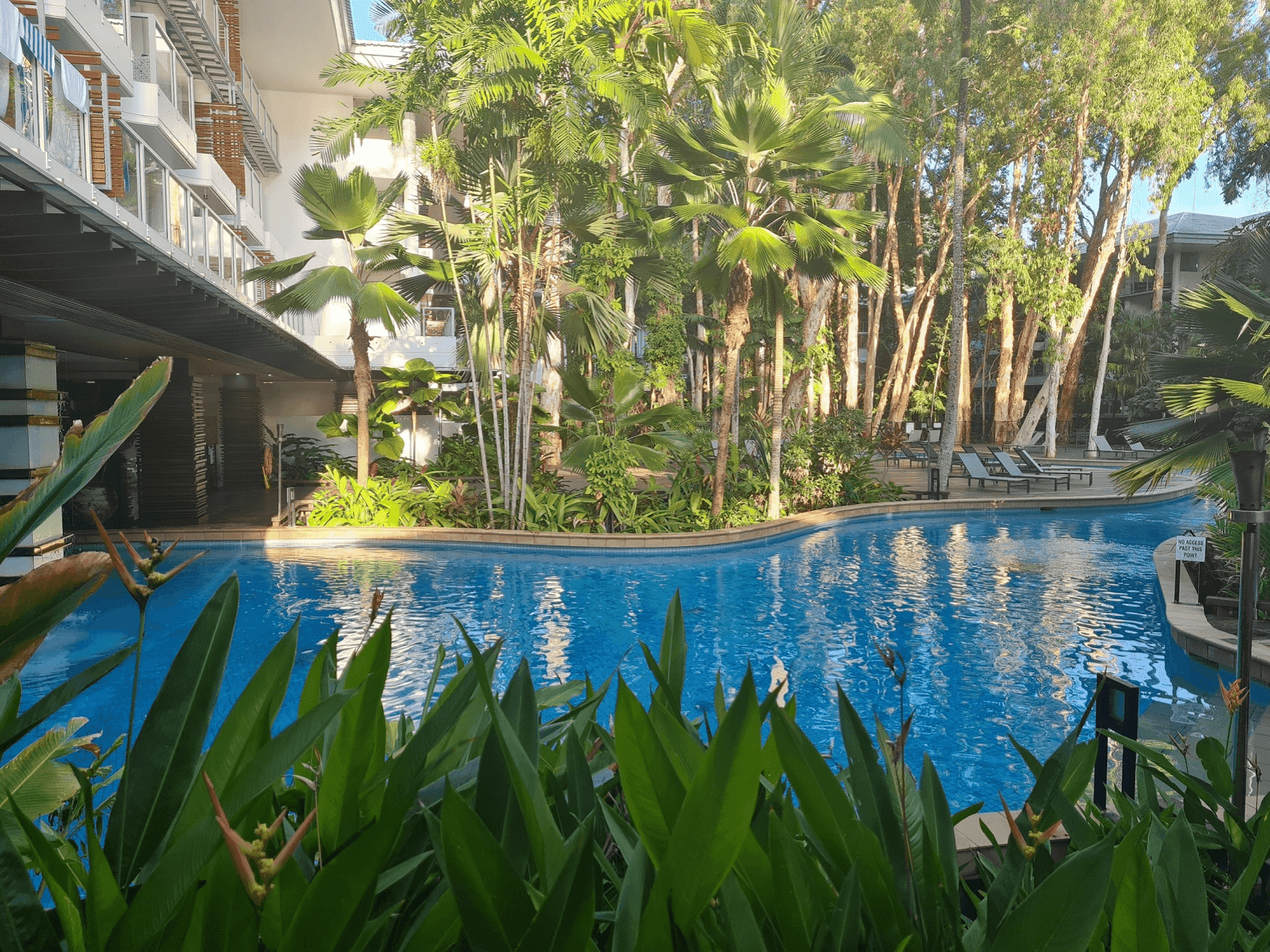 There is so much to see and do from Tropical North Queensland's central springboard, Palm Cove.
While on a stopover trip at Imagine Drift, our Marketing Manager decided it would be a great idea to see how much she could fit into one day in Palm Cove (while still maintaining that famously relaxed and laid-back attitude of Queensland's North). Follow her over the space of 12hrs to see what you can fit into a day of sightseeing while staying at our TNQ resort, Imagine Drift.
0600 Sunrise Walk
It's easy to wake up just before the sun in Tropical North Queensland. A natural singsong alarm clock of birds chirping in the trees will let you know when the sun is about to rise. Make your way from the front entrance of Drift to the sandy beaches of Palm Cove (the 50 m walk takes about 1 min) and capture the famously pink and orange sunrises of Queensland's far North.

0700 Breakfast at Nu Nu
If you're not always a fan of breakfast, I recommended giving it a go anyway while in Palm Cove! Directly across the road from Imagine Drift (and somewhere you may need to book in advance) is Nu Nu. Delicious meals and freshly squeezed juices are on offer, with seating less than 100m from the waves of the ocean. This place just screams tropical decadence and you're bound to love it. I ordered the coconut pancakes with a fresh orange juice and my goodness me – both were perfection.

0800 Coffee from Chill at Portofino
It's time to get the sightseeing started! Inside the Imagine Drift complex is Chill at Portofino, where you'll find friendly service and yummy coffee. Grab your takeaway caffeine and jump in your car/ cab to start today's adventure!

0830 Skyrail Cairns

Lifting up over the canopies of the ancient rainforest, it is easy to see why James Cameron was inspired to create the blockbuster movie Avatar from imagery found during his travels to Skyrail Cairns and the Daintree Rainforest. It is lush, dense, and otherworldly. A sure way to feel the mighty presence of nature itself is to glide along the tree lined canopies of the Atherton Tablelands via SkyRail Cairns. The stops along the way are informative and a beautiful way to immerse yourself in the rainforest at ground level as well as experiencing the view from the sky.

0945 Butterfly Sanctuary
It was a little cold and wet for the famously beautiful butterflies to come out in full force, yet even in winter, I was lucky enough to capture a few feedings. In the warmer months you'll find this aviary is a-wash with colour as you're surrounded by lively and effervescent butterflies (who will land on you!) as you walk through the purpose-built gardens.

1030 Kuranda
A sweet little town filled with sincere acknowledgement to First Nation's culture and the history of the Kuranda town itself. As you walk the colourful streets, you'll find locally owned and operated gift stores, cafes, clothing, and market stalls. The locals are friendly and proud of their town – staying a few hours in Kuranda to experience the town is definitely recommended.

1230 Petit Cafe
Recommended by a friendly local, Petit Cafe is a well-known favourite for breakfast, brunch, or lunch. And my goodness - it didn't disappoint. Fresh and delicious; I had the classic #6 - a glorious savoury vegetarian crepe coupled with the honey house latte. Not only was the food outstanding - the service was fast, friendly and welcoming.
"This is what I want in my life, to discover places... and eat like this"
Words of wisdom from a nearby stranger at breakfast.
1330 Transylvanian Kurtosh
Home of the traditional Chimney Cake this shop is as entertaining as it is delicious! A perfect stop before heading back down the SkyRail; enjoy watching the traditional cake maker create what can only be described as a mix between cake, a croissant, and a donut from scratch. It was delicious, made fresh to order and so fun to eat. Recommended by the shop owner as the traditional flavour, I had the cinnamon and walnut chimney cake… my only comment is that I wish I bought more than one! Absolute 10/10.

1500 Hartley's Crocodile Adventures
After a morning of sightseeing and eating, you'll be set to arrive at Hartley's in time for a boat cruise follwed by the famous "Croc Attack" show at 3pm. And what a way to finish the day! The presenter was hilarious and the 4m saltwater croc, Hagrid, was pretty keen on keeping us (and the presenter) on our toes… it made for a highly entertaining show.

1730 Lagoon Pool at Imagine Drift
Back in time for a lazy afternoon swim in the lagoon pool at Imagine Drift, with ¼ acre of freeform pool to paddle through, I found this a serene and relaxing way to melt off a day spent on my feet.

1800 Dinner In

Keen to stay in after a day of adventures I made good use of the spacious balcony of my room at Imagine Drift. It was lovely; a perfect way to wind down with the sound of the ocean in your ears, a full belly, and a cool glass of wine before retiring to bed for a blissful sleep.
NB: If you're still keen to keep going we recommend Vivo Palm Cove (130m – or a 2 min walk from Drift) for tasty food and cocktails every night of the week.

WORDS: Emily Steckelbruck, Marketing Manager for Imagine Hotels & Resorts