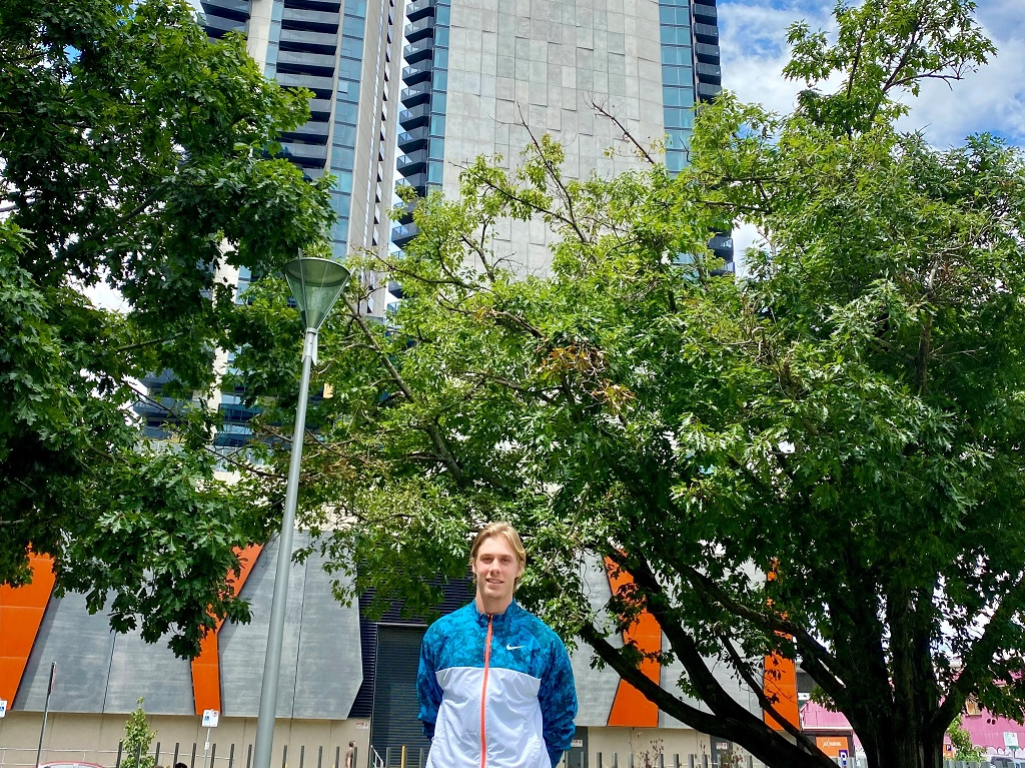 Walking through Boyd Park by Imagine Marco in Melbourne's Southbank precinct; Denis Shapovalov takes some time to talk about tennis, travel, music and rescue kittens.
Twenty-One and ranked #12 in the world, #1 in Canada - that is quite an achievement! At only 18 you blasted onto the professional tennis scene reaching a masters semi-final in the 2017 Canadian Open, beating grand slam champions Juan Martin del Potro and Rafael Nadal. Since then, you've jumped from top 50, to top 30 and are now at a career high rank of #12.

Considering how far you have come in the last 3 years – where do you see yourself in the next three?
Honestly, I don't know. It's like you said, it's been very quick for me coming from juniors to getting used to the pros and trying to transition my game. I had a great season that year [2017] and all of a sudden, I jumped into top 50. I felt like I wasn't entirely ready, both physically and mentally – like I wasn't as strong as the other players and definitely not ready to travel that much. So it was a bit of catching up for me, but my game was there.
Now I feel like I'm capable to compete with the best players in the world, and I've shown that time and time again. I guess over the next three years it's just about hitting that next level and starting to beat these guys and actually win some bigger titles. For me that is definitely the goal, but I am really satisfied with where I am today.


2020 was no ordinary year; even with suspensions of the game paired with unknowns in the sporting world – you still managed to improve your ranking from #15 to #12. How would you describe last year for you?
It was definitely very tricky. I remember being at Indian Wells in California when everything started locking down and events got cancelled, so I was trying to decide what to do. My coach is a foreign player, he's from Russia, so it's not easy to meet up somewhere when the world locks down. We decided to go to Florida and stayed there.
I trained for three months, and you know it was actually kind of nice to have time and not to worry or stress about things like having to prepare for tournaments or upcoming competition. In that regard, it was really nice.
I also started working with a psychologist and worked on trying to improve my mental side. I felt like that helped me so much last season and definitely just helped me grow as a player and a person.
Brilliant, it sounds like you took the time to completely prepare your mind and body.
Yeah for sure, as soon as tennis came back I was ready to play. Obviously, it was very tricky with playing so many tournaments where everything was locked down and there were no fans. But I was able to make the most out of it. I'm really happy with the way things were able to unfold.
It was super difficult circumstances for everyone, and I think we are just lucky to be able to play last season.


The conditions in Melbourne can be gruelling, and with AO2021 being the first Grand Slam of the year - how did you prepare yourself for it?
I feel like my game is ready. This year I've already had two great matches against Novak and Sascha [Alexander Zverev]. It didn't go my way, but I definitely feel like I was in those matches and had my opportunities so for sure the level is there. You never know how tennis is going to unfold and how the tournaments are going to go but I feel like I've done everything to prepare and hopefully it does go my way.
If not, I am very happy with my training and the time I've put in on the court. So if it doesn't unfold here I'll just keep working and I'm sure I am going to have a great season.


You just mentioned your recent match with world #1, Novak Djokovic. You've played him before at the Paris Masters in 2019 – what do you think you learnt from that game and how did it feel playing him again last week?
He is a very tough player to play against. Every match with him, I learn something new. I definitely want to start getting to that finish line, I feel like the last two matches we played were very close and I feel like I am there and able to beat him. It's just a couple of points here and there, so it was definitely disappointing to lose that one, as I feel like I'm capable to beat players like him. That being said, it's not an easy task, so I will keep working to change some things so in the future I can get those wins.


Which of the current players on the tour do you most enjoy watching and why?
Roger Federer was my idol growing up so any match if his is super exciting. I enjoy watching Novak as well he is such an amazing player, he's so solid on the court - he comes up with crazy passing shots and crazy shots so he's really fun to watch as a fan. I feel like there's a lot of players, Stan Wawrinka that goes for big shots, Gaël Monfils is super exciting to watch as he's so athletic on the court. I'm a fan of a lot of these players so it is pretty fun to be around these guys.
I can imagine, being a fan and then getting to play them must be great.
Well, (he says with a cheeky smile) I'm not so much of a fan when I'm playing them. Different mindset.


I see that you started releasing music in the last year. Is this a passion project that was born out of the world changes in 2020 or have you always been interested in creating music?
I have always been interested in music – I've been writing lyrics and writing songs for about 4 years now and never really released anything until we had that time in 2020. I had a friend in Miami who helped me out and I built an at-home studio to record a couple of tracks. We figured let's just put a couple out there, see what people think, and if they like it, we can come back and do some more.
For sure music is a hobby for me at the moment. I enjoy to write, I write all the time, but it's not easy for me to get into the studio. That takes energy in itself, so it's just something that I do in the off time.


Your rescue cat Zeus is adorable – before meeting him were you a cat or a dog person?
Growing up I was always a dog person, but I love all animals in general. Any kind of animal, I love to help. I've got two dogs at home and at my place in Greece where we already had a cat, we found Zeus in the street. He was only 5 weeks old, super young, blind and in terrible shape. We took him in and brought him back to good health. There was another girl who was just kept coming to our house as well, she was obviously a stray, so we would feed her. Now she lives with us too, and her and Zeus are dating. It's really funny to see – they are so hilarious.


What can you not live without when traveling?
My headphones are an absolute must, I've got to listen to music – especially on those long-haul flights. And obviously all my tennis gear. Other than that – I like to travel with my Nintendo Switch and sometimes my mic as well so I can record some music while away.


What about accommodation? What do you find are your non-negotiables when looking for a place to stay?
The important thing about a hotel is to make it feel like your home. That why I feel like here at Imagine Marco it's so amazing; you have a balcony, your kitchen, you can cook food, you have a living room and a separate bedroom - so you feel like you're in an apartment and can make it your home. That's super important to have and it's definitely a great place to be.


That's really wonderful to hear. We are so happy that you're comfortable here during your stay and that Imagine Marco feels like home. Denis all the best for the upcoming Australian Open – we will be cheering for you on Monday!
WORDS: Emily Steckelbruck, Marketing Manager for Imagine Hotels & Resorts