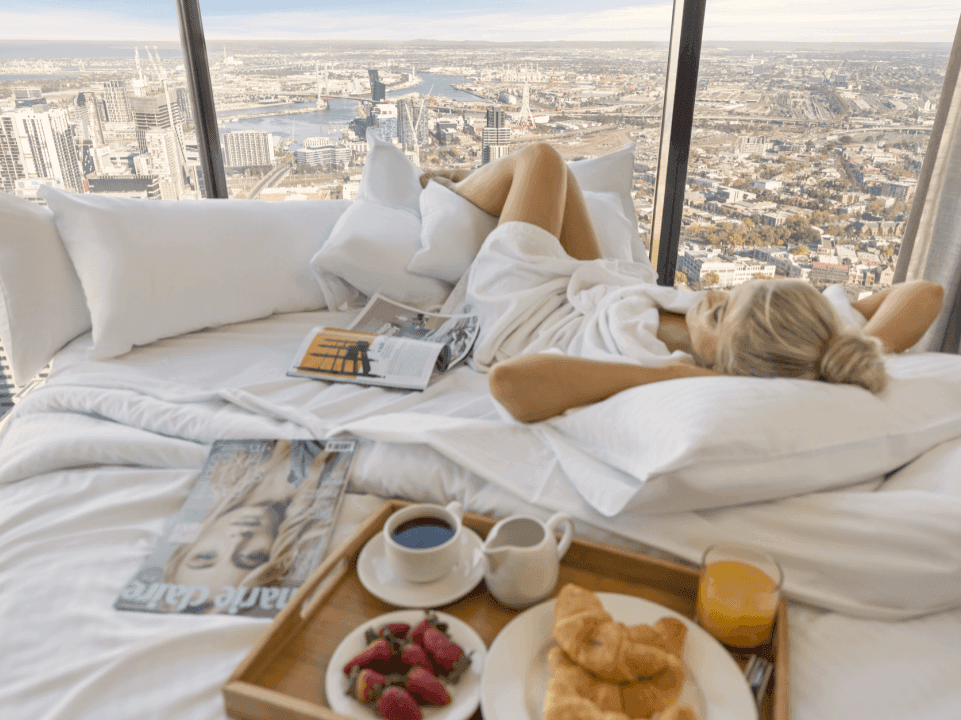 Just imagine having your cake and eating it too. A recent poll of over 1000 Australian's showed that majority of the Top 10 Simple Pleasures in Life can be found during your stay with Imagine Hotels & Resorts.
Read about the listed top ten and how you can integrate these snippets of joy into your stay with us below.
Listening to your favourite songs
This can be done anywhere, but if you're jamming out to your favourite tunes in a hotel room – it definitely feels like a holiday.
Sleeping in a freshly made bed
At Imagine, enjoy fresh linens that are cleaned, prepped and made to perfection on a beautiful custom-designed mattress. Every. Single. Time.
Making someone smile or laugh
For this one, our staff have got you covered. Our front line ensure you are always greeted with a smile while we take the time to get to know you (we also really love if you join in the check-in banter and make us smile or laugh too).
A nice dinner
No matter which of our hotels you are staying at, there are culinary options to suit all tastes! We have casual eateries, decedent restaurants, specialty cuisine and family favourites all a short walk from Imagine Drift, Imagine Marco and Imagine Lighthouse.
Payday
Well, this one has to do with your workplace and employers, but we love payday too. So, it stays on the list and we will celebrate with you.
Sleeping in a big (and incredibly comfy) bed
Imagine Hotels & Resorts is PASSIONATE about getting great sleep. We know that no matter why or when you're travelling – sleep is paramount to the enjoyment of your trip. Because of this, our CEO took the time to design custom mattresses for our Imagine hotels. This means you can enjoy sleeping on your Imagine Deep Sleep mattress no matter where you stay with us. **You can also buy your own Imagine Deep Sleep mattress, direct from our supplier, if you feel so inclined >> thathotelbed.com.au/imagine-deep-sleep/
Sound of rain on the window
While we can't guarantee it will rain during your stay, our apartments have rather luxurious windows with views that make watching the rain fall even more enjoyable.
Stunning views
Served up every time you stay. Views are something we are known and loved for.
Watching your favourite movie
With free Foxtel included in your stay, you can snuggle up with a piping hot cup of tea and enjoy your favourite flicks at any of our Imagine locations.
Going to the beach
The beach is just off your doorstep when you join us for a Tropical North Queensland getaway at Imagine Drift. Or explore more of Melbourne during your stay at Imagine Marco in Southbank, where you'll find Port Melbourne beach is an 8 min drive away. Or check out Sandridge Beach, which is 16 mins drive from Imagine Lighthouse in Melbourne's CBD.
Are you ready to make time to experience life's simple pleasures? Access some (or all) of these top ten portals to joy when you book your next stay direct with Imagine Hotels & Resorts >> https://www.imaginehotelsresorts.com/
WORDS: Emily Steckelbruck, Marketing Manager for Imagine Hotels & Resorts