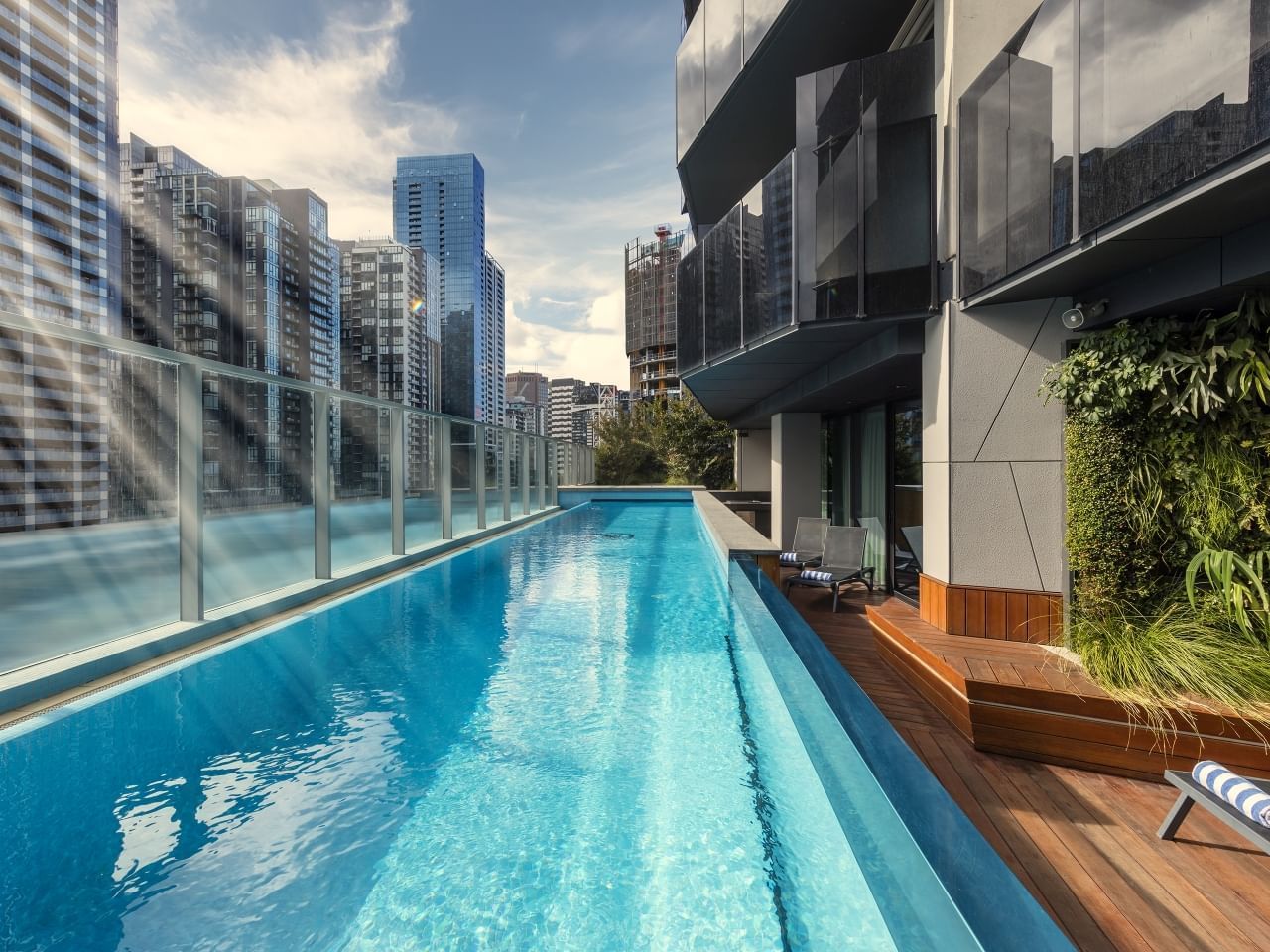 We're open and we couldn't be more thrilled!
After a devastating year for all those who revel in a little city staycation, Imagine Hotels and Resorts have re-opened their grand lobby doors to welcome back the holiday deprived visitors we so dearly missed.
With passion and purpose at the forefront of all guest experience, Imagine Hotels and Resorts will forever parallel a desire to live well, eat well and explore Melbourne's creative culture. To take advantage of the Melbourne experience at your doorstep while staying in Southbank, try these 10 things to maximise your summer stay with Imagine Marco!
Visit Imagine Marco's pool and wear the brightest swimwear you own!
It makes for a stunning contrast against the blue toned flooring.
Spin around and photograph yourself in the luxurious lobby.
The sleek interior design makes for a very sophisticated Insta-boomerang.
Call ahead and book the complimentary cinema room.
The surround sound to your favourite film is worth the reservation.
Book or upgrade to a Sky Apartment and choose from either city or ocean views –
Drift asleep with your head in the clouds and stunning views to wake up to.
Visit the new Woolworths and BWS next door to organise afternoon balcony drinks.
Each apartment features a balcony to revel in summer breezes and balmy nights.
Buy local and curate your own cheeseboard for the afternoon.
South Melbourne Market is within walking distance and sell some of Melbourne's finest fresh produce.
Watch the sun go down from the outdoor infinity pool.
Melbourne's famous city skylines can be viewed in the comfort of cool and calming water.
Visit Left Bank Restaurant along the Yarra River at any time of day.
Left Bank restaurant is only an eight-minute walk, and is your home for both a boozy night or dusty morning.
See the friendly reception staff for Melbourne's best recommendations.
From garden visits, outdoor boat picnics, restaurants, bars and more, the Marco team are there to help.
See reception and recommend a song or album for the grand lobby to play.
Imagine Marco's entrance features a large screen TV to provide background music to fuel your adventures!
Kim Toovey | kimt@imaginehotelsresorts.com | +61 428 128 956
Business Development & Sales Manager at Imagine Hotels & Resorts